Red Wagon Inn / Plaza Inn
BACKSTORY: From 1955—1965, The Red Wagon Inn was the name of the restaurant at Central Plaza, originally sponsored by The Swifts Premium Meat Company in Kansas City (they also sponsored the Main Street Market House & Frontierland's Chicken Plantation House). RWI also originally included an area with a VIP lounge, a wet bar, and bathroom for Walt's special guests. This area became a hospitality center for Goodyear when they were a sponsor, then converted to offices, and finally destroyed in the 1999 rehab. Renamed "Plaza Inn" in 1965, it serves traditional American fare and is sponsored by the Columbian Coffee Growers. Designed by Walt Disney's wife, Lillian, it is decorated with turn-of-the-century furnishings and authentic mementos of the 1890s, including the stained glass ceiling, entrance hall, and foyer taken from the old St. James home in Los Angeles (1880). The Tencenniel celebration & press conference were held here in 1965. The menu originally offered a varied selection of food, featuring steaks & chops and Swift's quality meats.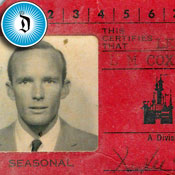 Daveland story contributor Cox Pilot used to work at the Flight Circle in Tomorrowland. His memories are amazingly vivid. Here he shares tales of the Employee Cafeteria at Disneyland:
Keith Palmer (high school buddy) got me the job at the Cox Thimble Drome at Disneyland just after my high school graduation in 1959. The employee cafeteria was quite small and was the back side of the Red Wagon Inn. Same food and everything, but a little dark and cramped.
Later, when the Inn was rebuilt into the Plaza Inn, the cafeteria quadrupled in size and was very bright and modern, and always full. The food was fantastic and priced at half of that charged out front. Walt really liked his people to eat.